THEOLOGICAL SCHOOL OF SAINT CYPRIAN OF NGOYA IN CAMEROON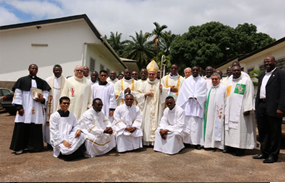 The St. Cyprian Theological Seminary opened its doors on October 1, 1979, to five Cicm scholastics from Kinshasa (Zaire).  By "Saint-Cyprian Theological Seminary", we meant the complex comprising the CICM formation community and the school.
Founded by the Congregation of the Immaculate Heart of Mary (Missionaries of Scheut) for the formation of its members, the St. Cyprian Theological Seminary welcomed, from the beginning of the 1980 academic year, religious members of other Congregations or Institutes. With regard to the teaching staff, it should be noted that, from the beginning, there were already non-cicm professors who were working as temporary professors.
It is also worth recalling that the St. Cyprian Theological Seminary was intended to be an institution for the formation of young clerical missionary clergy.
At the end of the academic year 1981-1982, when the first finalists finished the institutional course, the St. Cyprian Theological Seminary could rejoice in having welcomed 32 students.  During 1982, the Saint-Cyprian Theological Seminary underwent a profound metamorphosis: meeting in Mont-Fëbe from 12 to 17 April 1982, the Select Committee of the cicm Region of Africa and the Regional Commission for Initial Training cicm decided to separate the school from the training community.  From that moment on, the school was called the St. Cyprian Theological School.