more detail
The real question facing our conscience today is this: how to form today in DRC the future Missionaries of the Holy Apostles (MSA) that the Church will need? This question seems fundamental to us. Before giving an answer, we must first try to draw, at least in broad terms, what we think is the MSA profile. This is very important because if we know about the MSA profile today, we can say what kind of training will have to be given to MSA candidates in DR Congo, so that they are in line with what we want to do with them.
The formation house is like a mould in which the candidates must be kneaded. Our mission in the Church is to "promote, form and accompany young people and adults in their priestly vocation and other ministries...give the world leaders, both lay and religious...". It is our serious responsibility to form credible, reliable MSA in all possible dimensions (human, spiritual, intellectual, community, pastoral...) so that they are able to give the world such credible leaders. Nevertheless, it will be the result of a common effort: formators, MSA candidates in a fraternal and apostolic life.
It is true that the community has not been built for long, but we can already say this:
- The Charism: From the beginning, we left with the vocational mornings.
- Internationality: Currently, we have 3 probanists at the International Probation Time who have completed their philosophical cycles in Bogota. We would like to thank Father Edwin Adrian, MSA leader of the Delegation of Colombia and his council for this frank collaboration. One in Peru at the parish of Huánuco, which has already completed its philosophical and theological training and probationary period. 8 postulants at the Saint Joseph Mukasa Institute in Nkolbisson, Cameroon. We also welcomed Fathers Jorge Colmenares and Rigobert Tango.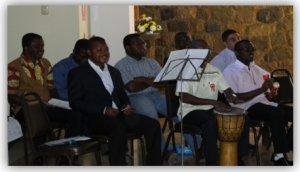 - Work in the Church: The confreres regularly participate in inter-congregational meetings on campus, in diocesan meetings and also in meetings of the Association of Major Superiors (ASUMA), of which we are already members. We plan to integrate the meetings of the Franciscan family and the meetings of young professed in Kinshasa. Greater Congo has 52 dioceses, the bishops and their auxiliaries are all Congolese.
2.1. Important events in the past 7 years
- The creation of the MSA Local Community in DRC: the dream that has become a reality.
- The first promises of our first candidates
- Regular visits by the Animator General, some advisors and the Executive Director of the Père-Menard Foundation.
 3.1. What are the strengths?
- A very good training environment: Now we are renting from the Canossian sisters....
- Many vocations... We do not need to go out on the streets, they happen to us... The challenges of discernment and budgeting!
- The dynamism, generosity for the mission and youth of the members in formation, many of our candidates have university degrees, a lot of hope in a great country ecclesially speaking.
- There is a great diversity and many possibilities for university studies in DR Congo. Compared to elsewhere, studies cost, for example, US$850 per student for the whole year.
- Many late vocations.
- Priests, men and women religious, are very well prepared...
- We have candidates Brothers
- Etc.
3.2.      What are the weaknesses?
- The insufficient number of trainers specifically MSA
- Finances, poverty is a major obstacle... We live on aid; no student is able to pay for his studies...
- The political and economic situation in the country that affects our budgets: unequal access to schooling, health care and basic health practices...
- Why can we be from a very rich, so poor, and even miserable country at the same time? We have very wealthy leaders in DR Congo who compete with Western billionaires. The population has resigned itself, it has lost hope. It no longer asks for or expects anything from the leaders...
- Lack of material investment properly MSA. You will not believe me either if I tell you that our applicants in Kinshasa do not even have a computer for their academic research! We are really in need of a suitable pd subsistence materials.
3.3 What is the financial situation?
- For finances, we are 90% dependent on the General Administration!
On our own, the problem of money and other equipment will remain for a long time to come. Christians are gradually awakening to a sense of responsibility. But their purchasing power is very low, especially since the candidates who flock to our Vocational Promotion Centre are either rural or low-income.
- We have initiated some self-financing projects on site: Backyards, agriculture, small livestock breeding, etc. Perhaps later on, the breeding of large cattle as other congregations do on the spot. Moreover, in the DRC, there are mission procures, garages belonging to the Congregations, construction services, etc.
- We are committed to good management that takes into account the standard of living of most of our compatriots....
- What is certain is that we have many vocations in DR Congo. Certainly, the Holy Spirit remains the first educator of souls, but it is important that we have a favourable framework in which our candidates can be well accompanied in the Menardian way. It is clear that the credibility of future AMMs in the DRC goes hand in hand with the establishment of basic structures. We need not only infrastructure, but also scholarships. We are renting with the sisters who at some point can take their house back...if that happens...where will we go? That is what we are concerned about now.
- We have developed several projects to request a vehicle from MIVA (Holland, Austria, Switzerland)...So far the answers are negative!
- Thanks to the Father-Menard Foundation, we have already begun the training of leaders, religious and lay people... The Development of projects to improve the quality of life of disadvantaged populations...
- Within the next five years, we will be counting on our Congolese members:
As for the reality of our local community "St. Matthew the Apostles" in DRC, we do not claim to have said everything. This is just a flash of lightning. We simply wanted to draw the main lines of a portrait that seems to us to be very promising for all the MSA. Of course also, with many things to be fulfilled. Thank God for vocations, there are some and the number of MSA candidates is growing. Thank you for supporting us to the extent of your possibilities because we are not born MSA...we become MSA.... With your help, a young Congolese can become one for us and for you. We thank you and in particular the former General Council for the immense work undertaken and for all the achievements. And to Father Luis Luna, MSA, our general animator and his council who has always sent one of his advisors when necessary to find solutions to the problems that arise in the local community of Saint Matthew the Apostle, Let us be united in the Lord Jesus.